| | |
| --- | --- |
| Current Music: | All those words that hurt you more than you would let it show... |
| Security: | |
| Subject: | Fic: Dark Skies Looming Over- Chapter Two |
| Time: | 04:30 pm |
| Current Mood: | hungry |
Thank you to those of you who responded to the previous chapter. I really appreciate the feedback! I hope you continue to enjoy the story.
Title:
Dark Skies Looming Over
Author:
Esoteric Fallacy
Rating:
NC-17
Warnings:
Prostitution, Violence, Abuse, Sex, Drugs, etc.
Archive:
Chapter One
Summary:
Adam is a jaded, cynical man who sees the world in shades of gray, until troubled Luke stumbles into his life and inadvertently drags him into a bizarre, twisted place full of things Adam never believed could exist.

CHAPTER TWO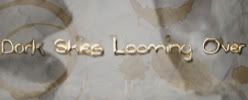 (Link leads to my fic journal)


*Thanks for reading!*


P.S. If you'd like to be notified of fic updates, please go (HERE) and leave your e-mail address in the comments. They're screened, so no one will see it but me. Thank you!


(Crossposted to
yaoi,
brokenboys,
originalyaoi,
restless_hands,
violentboylove,
yaoi_smut_fics)


comments: Leave a comment